Vienna Social Housing Field Study: International Best Practices in Mixed-Income Housing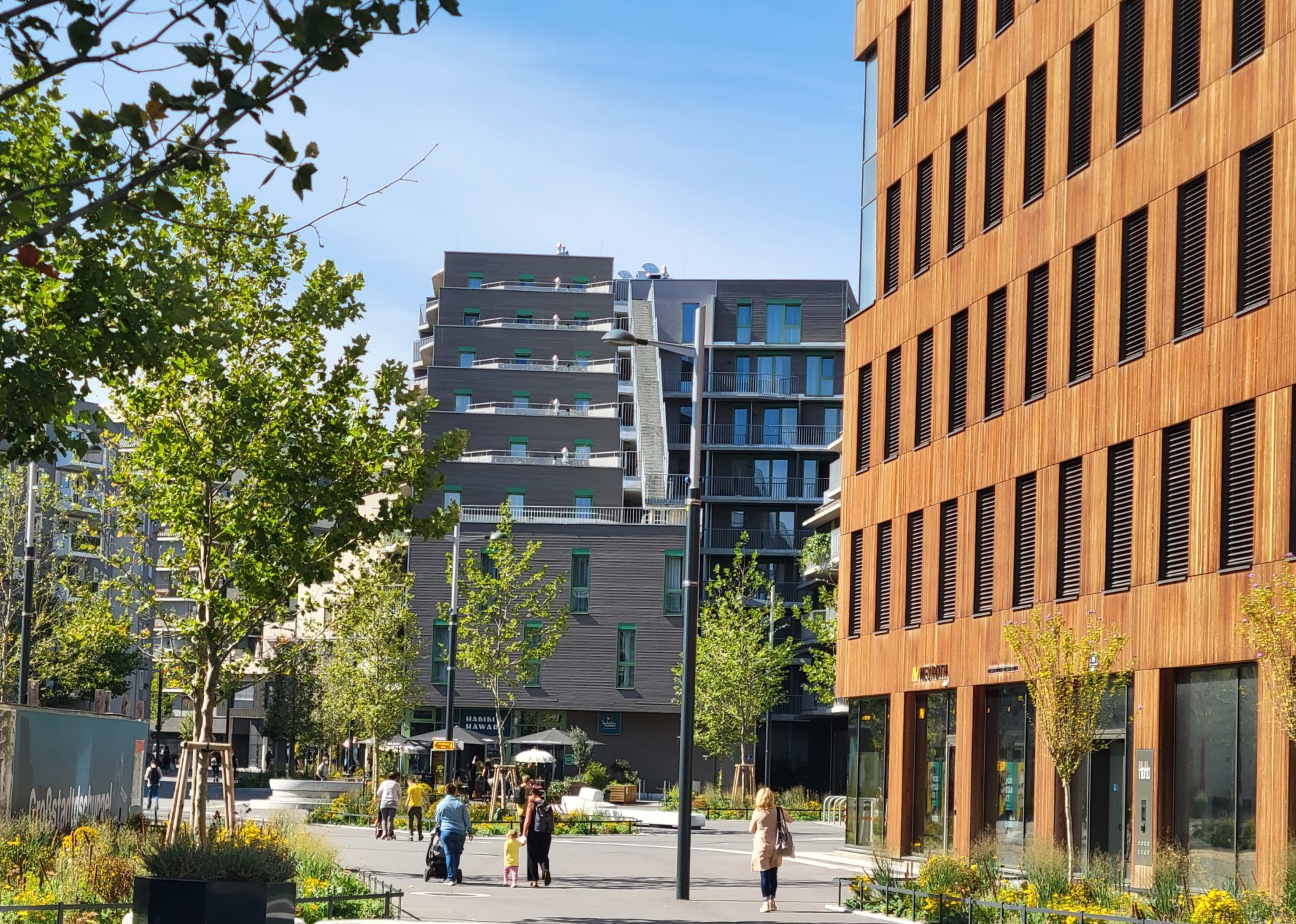 Join the interest list to receive information about upcoming Vienna Social Housing Field Study weeks taking place in May/June, 2023.
Vienna Social Housing Academy
The Global Policy Leadership Academy is offering an intensive housing policy program designed to give California local and regional housing policy leaders and practitioners a deep understanding of the Vienna Social Housing Model and how it came to be the most livable city in the world.
Social Housing Field Study
TWO, ONE-WEEK FIELD STUDIES IN VIENNA, AUSTRIA
May 21 – May 26, 2023
May 29 – June 3, 2023
Program participants will learn from and engage with Viennese housing experts to gain firsthand knowledge about social housing, urban planning, construction, financing, land management and community engagement. Offerings include:
Daily lectures, symposia, gatherings, exhibits, and field trips
Curriculum topics such as:

Overview of the history and evolution of social housing in Vienna, Austria, 1917 – 2022
The role of government in planning and funding social housing
The developer selection process and role of the developer
The economics of the Vienna Social Housing Model including rents and incomes served
A comparison of affordable housing in the USA to the Vienna Social Housing Model
Urban planning and urban design
Vienna land procurement and urban renewal fund
Creating permanent affordability for all
Developer competitions
Housing subsidies in Vienna
Creating a walkable and bikeable city
You can find more information about the curriculum in the Curriculum Topics section below.
Community of Practice 2023-2024
POST COURSE AND TRIP
GPLA offers a robust online learning platform where participants can access course materials, engage in discussion forums, exchange information on challenges and best practice solutions, and collaborate on projects.
Header Photo Credit: © IBA_Wien/ Agnes T. Ackerl      
Vienna, Austria is considered one of the world's most livable and affordable cities. In the 1920s, the City of Vienna began a pioneering Social Housing program in response to rapid rent escalation, overcrowding, and widespread housing insecurity that emerged after World War I. One hundred years ago, 10% of Viennese residents were living in squalid conditions. Today, 62% of Vienna's 1.7 million households live in high quality affordable housing, spending a fraction of the cost that the average California household spends on housing. Vienna has been ranked 10 times as the most livable city in the world. How did this major European city reverse direction and create a stable, well-functioning, and affordable housing system?
This course is designed to give California's local and regional housing policymakers, practitioners, and leaders insight into international best practices in affordable housing. The Vienna Social Housing Academy takes a deep dive into Vienna's Social Housing Model to understand the forces that have shaped Vienna's unique approach to housing and evaluate how it compares to California's affordable housing system. Participants will learn about the housing ecosystem in Vienna from urban planning, design, consultant selection, construction, financing, government land management and subsidies to newer strategies for environmental sustainability and climate resilience. This program will also take a close look at how Vienna approaches community engagement, transit-oriented development, the growing need for deeper affordability, and inclusion of housing options for diverse populations, including single parents, seniors, newly arrived refugees and people experiencing homelessness.
Program participants will learn from and engage with leading Viennese architects, urban planners, housing developers, public sector, and community leaders to learn firsthand about Vienna's housing policies and practices. Participants will attend exhibits, lectures, walking tours and participate in group learning activities.
Join

the

conversation

in

Vienna

about

the

future


of

housing

in

the

21

st

Century!
"For many decades, Vienna has had a stellar reputation for its successful social housing policy and for high standards in housing construction and urban renewal. Hence, the question arises, "Why has Vienna decided to organize an IBA_Wien on the subject of New Social Housing?" The answer is short: Because housing in Vienna has faced huge new challenges at the start of the 21st century.  Because Vienna is a housing leader, it demands that we strive ceaselessly to bring together many voices, to define new development, and to take action with a view toward the future."
 -Kurt Hofstetter, IBA_Wien Vienna, 2021
Registration Opens in Early 2023
If you would like us to contact you when registration opens, please provide your contact information by completing our interest list.
For other questions about the program, please contact 
Helmi Hisserich
at
[email protected]
or (619) 821-9198.
History of Social Housing – Vienna, 1917-2022
Learn about the forces that shaped Vienna's Social Housing programs. In 1917 Vienna was considered the city with the worst housing in Europe, but today Vienna is consistently ranked as the best major city in the world to live in. Learn how the changing economic and political winds affected housing in Vienna, and how Vienna's housing policy has shifted through the years.  
Urban Planning / Urban Design
How did/does Vienna plan for new urban areas? Visit large scale residential developments in Vienna and speak with City planners to learn what goes into the development of new social housing communities.  
The Vienna Land Procurement and Urban Renewal Fund (Wohnfonds Wien)
Founded in 1984 by the city-government, this not-for-profit, financially independent corporation, is governed by a trust and chaired by the Vienna city council. Learn about how the public sector regulates public land for housing under the Fund Act. 
New Construction Technologies
Vienna's pioneering wood frame modular housing is at the cutting edge of cost conscious sustainable housing using renewable materials. Learn about the architects and builders working to deliver this new technology at scale.
Creating Permanent Affordability for All
Vienna's housing requires income qualification upon entry, but once a family is housed, they never have to leave their apartment even if their income increases – and many do not. Learn about the rights and responsibilities of tenants in social housing as they are compared and contrasted with housing policies and practices in the California affordable housing realm.
Developer Competitions
Public funding for housing in Vienna is allocated through developer competitions that evaluate projects through a system known as "the Four Pillars". Learn how Vienna drives down costs and drives up housing quality through developer competitions using architectural design, project cost analysis, environmental sustainability, and social sustainability.
Housing Subsidies in Vienna
Social housing is prioritized in Austria, funded by income tax, corporate tax and a housing-specific contribution made by all employed citizens. How much does this system cost? Is it more or less expensive than the US Affordable housing sector? Learn about how public funds for social housing in Vienna are raised, and how public sector investments in Vienna are implemented and measured.  
Fair Housing
Gemeindebau (Subsidized Housing) can be found in every single district in Vienna, unlike most other cities where public housing is concentrated in few communities, Vienna has made a priority of ensuring communities are economically diverse. Learn about how Vienna's policy of social mixing is prioritized and implemented.
Smart Cities Energy Lab
Learn how urban areas are optimized for sustainable infrastructure and how Vienna's government fosters innovation such as large multifamily passive house communities and neighborhoods that generate more energy than they use.  
Transit Oriented Urban Development
It is not uncommon for residents of Vienna to live without a car. Learn how Vienna's housing design promotes alternatives to single car usage and experience what it's like to live in a transit oriented, bikeable, walkable city. Visit Bike City, a new housing development that includes large bicycle rooms, free-of-charge outdoor workbenches with compressed-air and water connection, as well as a "car sharing" contact point. Spacious elevators suitable for bicycle transportation to the doorstep have also been provided. Access to the apartments is wide and barrier free with bicycle parking right at the front door!  
Alternate Ownership Models (Baugruppe)
A cross between Co-Housing and a Condo, the Baugruppe collective ownership model has become a part of Vienna's housing landscape. Visit one of Vienna's self-developed communities to learn how the architecture, planning and financing was put together and how these unique housing models are experienced by residents.  
Wie Wohnen Wir Morgen? How Will We Live Tomorrow?
Join with Vienna housing leaders for a conversation about the future of social housing in the 21st Century.
GPLA encourages participation of cities, professional organizations and community groups who want to study the Vienna Social Housing Model as a group. We will work with Community Sponsors to develop a recruitment plan for a diversity of participants and will create specialized learning opportunities for groups of 5 or more people.
For information about Community Sponsorships, please contact Krista Phipps at [email protected] or (619) 236-0614.
Jennifer LeSar
CEO and Founder, LDC and GPLA
Jennifer brings more than three decades in community and real estate development, investment banking, eco-system change management and organizational strategy to support clients in achieving scalable solutions to address housing affordability and homelessness policy challenges.
Helmi Hisserich
Senior Principal, GPLA
Helmi is a distinguished leader in housing policy and development in California. Former Deputy Mayor and Senior Manager at the Los Angeles Housing Department, Helmi managed the financing of more than 7,000 units of affordable housing in Los Angeles. Since 2016, Helmi has focused on scaling up affordable housing in California drawing upon international best practices in affordable housing, such as the Vienna Social Housing Model.
Kurt Hofstetter
Coordination, IBA_Wien
Kurt is an urban planner and has served as head of district planning and land use for the northeast of Vienna as well as head of landscape planning for Vienna as a whole. In the years 2003-2015 he was significantly involved in the conception, planning, development, and implementation of the innovative urban development area "aspern Die Seestadt Wiens".
Amila Širbegovic
Projects, IBA_Wien
Amila is an architect and urban researcher. She works, researches, and teaches at the interface between urban planning, migration, and space production. In the course of her almost ten years of work at an urban renewal office, she initiated numerous participatory projects in public space. Before that she gained professional experience in various Viennese architectural offices.