Vienna Social Housing Field Study Curriculum Topics
History of Social Housing – Vienna (Wein), 1917-2023
Learn about the forces that shaped Vienna's Social Housing programs. In 1917 Vienna was considered the city with the worst housing in Europe, but today Vienna is consistently ranked as the best major city in the world to live in. Learn how the changing economic and political winds affected housing in Vienna, and how Vienna's housing policy has shifted through the years.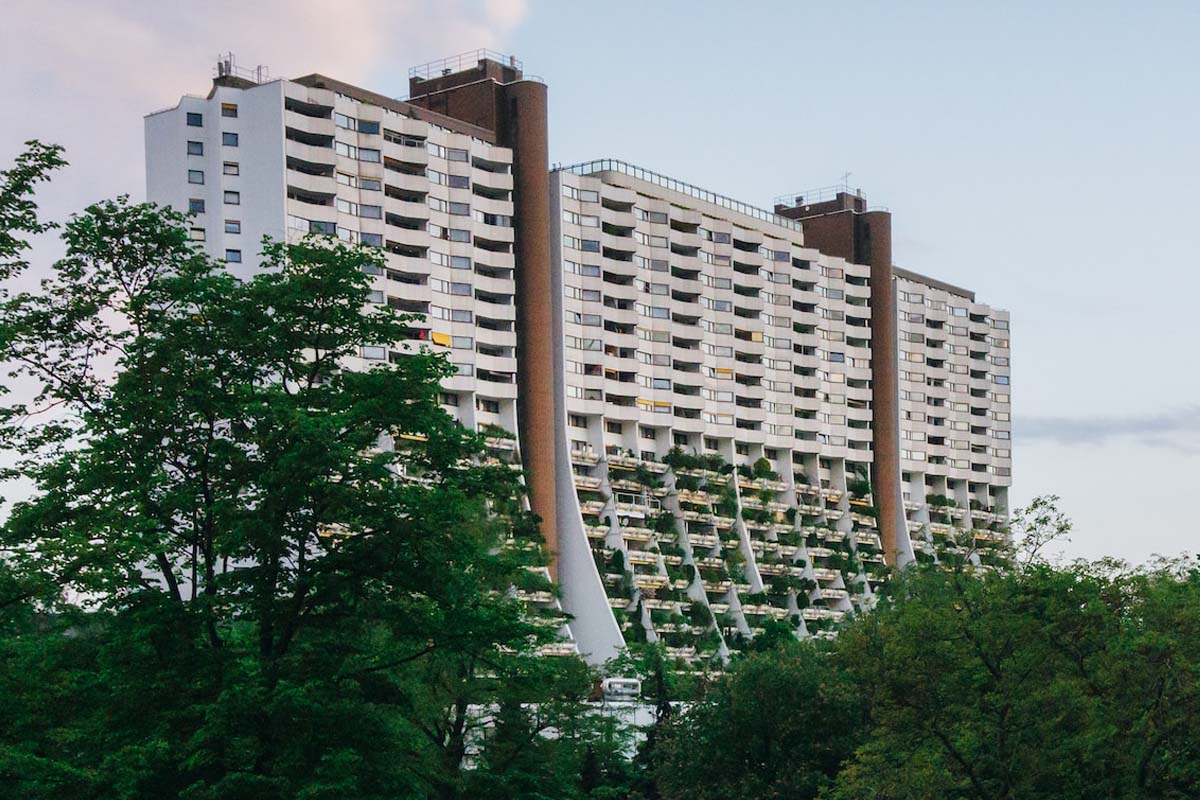 Urban Planning / Urban Design
How did/does Vienna plan for new urban areas? Visit large-scale residential developments in Vienna and speak with City planners to learn what goes into developing new social housing communities.
The Vienna Land Procurement and Urban Renewal Fund (Wohnfonds Wien)
Founded in 1984 by the city government, this not-for-profit, financially independent corporation is governed by a trust and chaired by the Vienna city council. Learn about how the public sector regulates public land for housing under the Fund Act.
New Construction Technologies
Vienna's pioneering wood frame modular housing is at the cutting edge of cost-conscious sustainable housing using renewable materials. Learn about the architects and builders working to deliver this new technology at scale.
Creating Permanent Affordability for All
Vienna's housing requires income qualification upon entry, but once a family is housed, they never have to leave their apartment even if their income increases – and many do not. Learn about the rights and responsibilities of tenants in social housing as they are compared and contrasted with housing policies and practices in the California affordable housing realm.
Public funding for housing in Vienna is allocated through developer competitions that evaluate projects through a system known as "the Four Pillars". Learn how Vienna drives down costs and drives up housing quality through developer competitions using architectural design, project cost analysis, environmental sustainability, and social sustainability.
Housing Subsidies in Vienna
Social housing is prioritized in Austria, funded by income tax, corporate tax, and a housing-specific contribution made by all employed citizens. How much does this system cost? Is it more or less expensive than the US affordable housing sector? Learn about how public funds for social housing in Vienna are raised and how public sector investments in Vienna are implemented and measured.
"Gemeindebau" (subsidized housing) can be found in every single district in Vienna. Unlike most other cities where public housing is concentrated in few communities, Vienna has made a priority of ensuring communities are economically diverse. Learn about how Vienna's policy of social mixing is prioritized and implemented.
Learn how urban areas are optimized for sustainable infrastructure and how Vienna's government fosters innovation such as large multifamily passive house communities and neighborhoods that generate more energy than they use.
Transit Oriented Urban Development
It is not uncommon for residents of Vienna to live without a car. Learn how Vienna's housing design promotes alternatives to single car usage and experience what it's like to live in a transit oriented, bikeable, walkable city. Visit Bike City, a new housing development that includes large bicycle rooms, free-of-charge outdoor workbenches with compressed-air and water connection, as well as a "car sharing" contact point. Spacious elevators suitable for bicycle transportation to the doorstep have also been provided. Access to the apartments is wide and barrier free with bicycle parking right at the front door.
Alternate Ownership Models (Baugruppe)
A cross between co-housing and a condo, the Baugruppe collective ownership model has become a part of Vienna's housing landscape. Visit one of Vienna's self-developed communities to learn how the architecture, planning, and financing were put together and how these unique housing models are experienced by residents.
Wie Wohnen Wir Morgen? How Will We Live Tomorrow?
Join with Vienna housing leaders for a conversation about the future of social housing in the 21st Century.
Ready to be part of the discussion in Vienna?
Photo credit: © Woow Studios
The Global Policy Leadership Academy (GPLA) prepares professionals and civic leaders to actualize leading-edge solutions to current, intractable societal challenges.